Eglish NS Board of Management
The Board of Management has legal responsibility for the overall running of the school. It serves for a term of four years. The members of the current board of Eglish NS are as follows:
Chairperson: Rónán Mullen
Patron's Rep: Breda Sammon
Principal: Siobhán Fitzgerald
Staff Nominee: Caroline Moclair
Parent Nominees: MaryEllen Martin
William Martin
Community Reps: Carmel Gately
Conall Duffy
---
---
School Day
9.20 - School Begins
11.10 -11.20 - Small Break
13.00 - 13.30 - Lunch Break
14.00 - Home Time for Junior and Senior Infants
14.00 - 14.10 - Conversation Break
(A Recommendation of our own Healthy School's Committee)
15.00 - 'Am dul abhaile'
Basic information
Eglish N.S is a school in the west of Ireland. It is located on Eglish road, Eglish, Ahascragh, Ballinasloe, Co. Galway. A small school, It has 3 classroom teachers. Eglish NS is 116 years old. We have a playground and two pitches for playing sport. One of the pitches is 3.5 acres.
School Team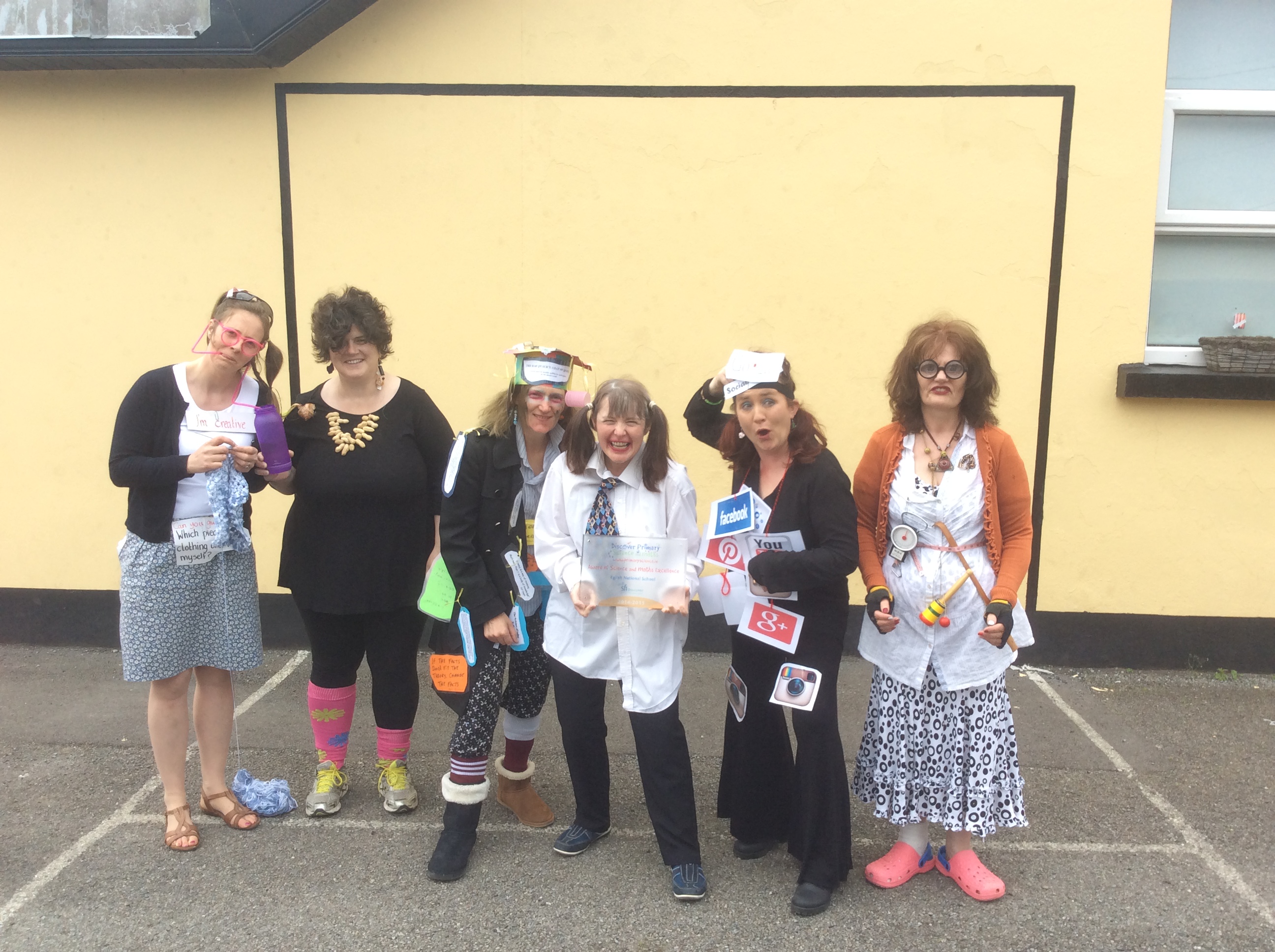 Some of our staff pictured above, celebrating MAD SCIENTIST's DAY, a celebration to mark the receipt of the Discover Primary Science Award for excellence in STEM (Science, Technology, Engineering and Maths).
Teaching Staff of 2012-2013 welcoming a visiting Principal from a Primary School in Melbourne, Australia to Eglish.
2020/2021: The dedicated team at Eglish NS is made up of Principal: Siobhan Fitzgerald, Class teachers: Edel Devine, Tom Gavin. Special Education Support Teachers: Elizabeth Mulry, Caroline Moclair (Acting Deputy Principal), Tadhg Fahy, Carmel Moore and SNA Bernie Glynn.

School History
https://www.flickr.com/photos/irishbeo/albums/7215...
Our school opened its doors for the first time in 1899. When Eglish N.S was first built there was a fire place and students would bring in turf every day to school. They would light a fire to keep warm because they had no radiators. The subjects were different as well. In school they were taught how to knit, sew, cook etc....Punishments then were very different too. Aaaaaah! Nowadays there is much more of a focus on positive behaviour as we, children are such little angels.
There were no buses or any other means of transport for the early students of Eglish N.S, so they had to walk or cycle to school and in the summer time, we are told by our grandparents, they would go in their bare feet.
The first Principal was James Joseph Connolly.
Thanks to successive Principals, including Thomas Leonard (RIP), Seamus Ryan and Elizabeth Mulry, Eglish NS has a long proud legacy of Sport, Music, Storytelling, Academics and Community.
---
Here is a poem by one of Eglish NS's past pupils
Schooldays
by Mary E. Leonard (Formerly of Dalysgrove),
written on the occasion of Eglish National School Centenary Celebrations
How little we knew in those early years of the paths our lives would take
The places we'd go, the things we'd do, the choices we would make.
How little we cared as times we shared 'round the classrooms of Eglish School
That the lessons we learned, from teacher and friend would prove life's strongest tool.
The days and the years, the laughter and tears shared in classroom and playground and road
The friendship once strong, now withered and gone but the memories will never grow cold.
For 100 years children's laughter and tears have echoed around this old school.
For 100 years young hopes and young fears have been nurtured by words kind and cruel.
And the tales that were told 'bout the good and the bold!
And the friendships, some fickle, some true
Many stalwart and strong, others scattered and gone
Yet now is our chance to renew.